8th Annual Gorge Ride
June 14, 2014
While it may have been raining in Portland, it was sunny on the east side for the Gorge Ride.
269 participants did not let the predicted west wind deter them from enjoying the ride.  You can see lots of smiles in the portfolio of photos taken by Steve Jannsen, click the adjacent photo to see the gallery!
Thank you to all participants, volunteers and sponsors.  We are looking forward to the 9th annual ride in 2015.  Stay tuned for a date announcement.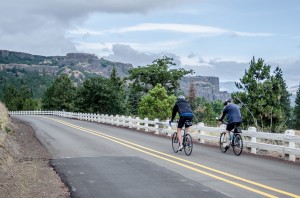 photo by Aaron Litt.
Registration fee per rider:
Ages 12 & up = $35
Ages 6-11 = $15
Under 6 = FREE
Fees increase by $10 for day of event registration.
Come ride with us!
Event Details
The eighth annual Gorge Ride sponsored by the Friends of the Historic Columbia River Highway (FHCRH) will be held Saturday, June 14, 2014, beginning at the Gorge Discovery Center. The ride extends 19.25 miles along the historic highway and state trail west to the Senator Mark O. Hatfield West Trailhead, just east of Hood River, and then returns. The course opens at 7am, and closes at 4pm.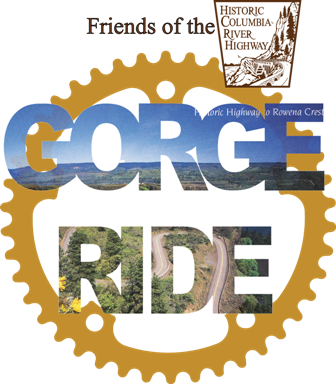 The route is a combination of historic highway open to motor vehicles (with very low traffic) and the Historic Columbia River Highway State Trail (open only to pedestrian and bicyclists). The out and back route is a total of 38.5 miles.
The ride is fully supported with water stops, snacks, mechanical support, and SAG wagons. Maps with cue sheets and an elevation chart are provided. A sack lunch from the Basalt Rock Café, within the Gorge Discovery Center, will be available for purchase during on-line registration. T-shirts featuring a Gorge Ride graphic will also be available for purchase during on-line registration only.
Packet pickup will be at the Gorge Discovery Center on June 14 from 7 AM to 10 AM. Course opens at 7 AM and closes at 4 PM. Participants will be required to sign our waiver and release form at packet pickup. Riders under 18 years-of-age must be accompanied on the ride by a registered adult and their waiver and release form must be signed by a parent or legal guardian. Participants must wear a CPSC/ASTM/ANSI/Snell approved helmet.

A note from Road Gang member Gary Brannan:
The terrain really isn't as tough as it looks on the above elevation profile — the HCRH was built with no grades exceeding 5%. Folks of all ages & physical condition have ridden it. When you encounter a hill, just 'gear down', take it one pedal stroke at a time, and remember that it's taking you to a view even nicer than the ones on the way up!
Online registration is the only advance registration method.
For a video of the 2011 event, go to Gorge Ride – 2011 Video
Thanks to our 2014 Gorge Ride Sponsors!
                                        Rest Stop Sponsors: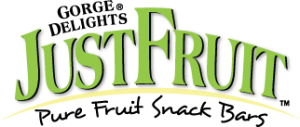 In Kind Co-Sponsors
Contributing Sponsors
                                                     
                                             
Mechanical Support